Corporate Training Kaohsiung-Soft Skills, Cross Cultural Communication
Corporate Training Kaohsiung – Soft Skills, Cross-Cultural Communication, Language Teaching
Overview: To facilitate efficiency throughout the workplace while also enhancing communication across departments and teams. Our corporate training client in Kaohsiung requires us to increase effectiveness of delegation and collaborative working performance. To improve staff quality of work by boosting overall team motivation.
In addition to providing soft skills our client also required us to assist with language barriers across emailing and online communication platforms in accordance with the correct protocols.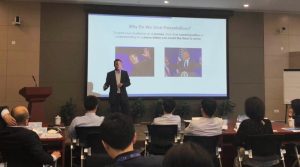 Our valued client in Kaohsiung has multiple requests for their ongoing training. The training was required to be delivered both online and utilizing face to face workshops. The company's own training team wished to be included in the training and for us to work with them in providing "Train the Trainer" workshops for them to continue to build and adapt ongoing continual professional development for their teams soft skills and communication skills.
Kaohsiung Corporate Training Needs Analysis (TNA)
Our Training Needs Analysis revealed that company HR wished us to implement new strategies for their teams by providing real scenario and immediately implementable activities and role playing. They required us to establish a long term training road map which would be delivered in segments across a timeline of 9 months. Our goal was to provide them with training tools and techniques for them to build on staff awareness and to help them to better engage with their colleagues using soft skills, sales and communication techniques as well as newfound vocabulary and phrases.
There was to be heavy emphasis on cross-culture training related aspects of communication also.
Kaohsiung Corporate Training Plan

In accordance with our clients set of stipulations we created a seamless course and business training plan that covered all of their most essential needs. Generic empathy, cultural understanding and communication skills were the initial areas which would form a solid foundation and then be built upon. The soft skills training included presentation skills, personality types analysis, leadership and delegation and much more. Alongside and integrated into the overall course was language learning which we put together using both online teaching and training as well as offline face to face workshops. To facilitate this we carried out initial testing to establish levels taking into account both language ability as well as levels of experience and key required skills for each group. In order to keep the course as fun and interesting for all employees as possible we utilized our EQ games and activities which are both engaging and highly educational.
Kaohsiung corporate training results
Our training program resulted in significant bonds being built across the company's worldwide teams and departments. Online meetings as well as offline became better facilitated and effective.
We ourselves also built strong bonds with the HR department that we were working closely with as well as their internal training teams.
The training feedback began immediately and made us extremely proud of our work. From initial outset we received continual useful comments and suggestions from the attendees as well as ongoing questions. These we were then able to feed back to the group as a whole to generate a united and great feeling of collaboration between the attendees. The soft skills provided were implemented to a degree that exceeded even our own highest expectations.
We were delighted to be given this fantastic opportunity and it was a true pleasure to provide the required corporate training for our valued Kaohsiung client. A follow up meeting with the managers has now led to a long term partnership being established which we are grateful for and proud to be providing great benefit to the company. We look forward to providing regular follow up continual development courses as and when required over the months and years to come. If you would like more details on corporate training courses in Kaohsiung please contact us.