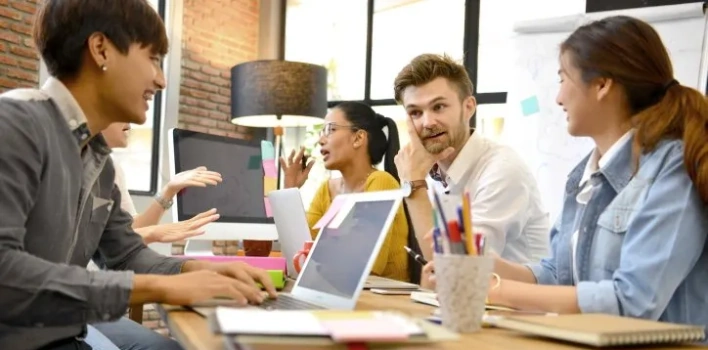 In today's interconnected world, effective cross-cultural communication has become a vital skill for professionals across industries. Are you ready to unlock the secrets to successful intercultural interactions? Join us for an engaging and interactive online event where we delve into the nuances of cross-cultural communication and equip you with the tools to thrive in a globalized business environment.
During this insightful course, you'll gain a deep understanding of the challenges and opportunities that arise when working with individuals from diverse cultural backgrounds. Our experienced facilitators will guide you through practical strategies, case studies, and interactive exercises designed to enhance your cultural competence and communication effectiveness.
Key highlights of the event:
Cultural Awareness: Explore the intricacies of different cultural values, norms, and communication styles to better understand the perspectives of others.
Overcoming Communication Barriers: Learn how to navigate common communication challenges, such as language barriers, non-verbal cues, and differing communication preferences.
Building Trust and Rapport: Discover techniques for establishing trust, fostering meaningful connections, and bridging cultural gaps in professional settings.
Resolving Conflict: Acquire essential conflict resolution skills to address cultural misunderstandings and promote harmonious collaboration across diverse teams.
Virtual Communication: Gain insights into effective cross-cultural communication in the digital realm, including virtual meetings, remote teamwork, and intercultural online collaboration.
By the end of this course, you'll have developed the confidence and expertise to communicate respectfully and effectively with individuals from various cultural backgrounds. Join us to expand your cultural intelligence, broaden your perspectives, and enhance your professional communication skills in a globalized world.
Who should attend:
Professionals working in multicultural environments
Business leaders and managers overseeing diverse teams
International students or professionals seeking to excel in cross-cultural settings
Anyone interested in strengthening their communication skills in a global context
Don't miss this opportunity to embark on a transformative journey towards mastering cross-cultural communication. Reserve your spot now, and join us for an enlightening online event that will equip you with the skills to thrive in today's diverse and interconnected world.
Note: This event will be conducted online. Details on how to join will be provided upon registration.
We look forward to welcoming you to this enriching cross-cultural communication course!
Click here for more details on corporate training courses in Taiwan, or business English courses in Taiwan.
Days
Hours
Minutes
Seconds
Start Time

December 3, 2023 @ 11:00 am

End Time

December 3, 2023 @ 12:30 pm