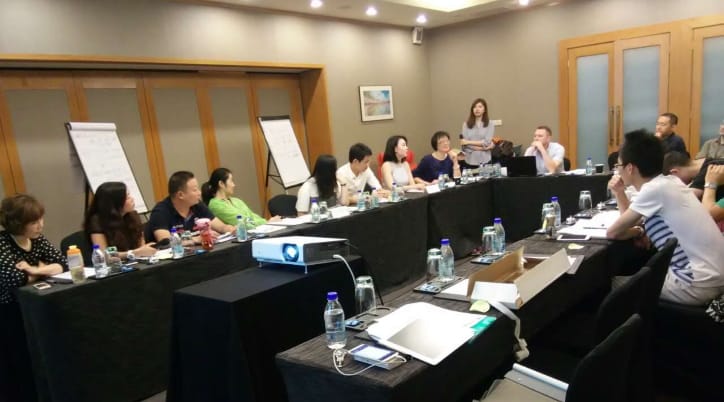 Communication & Team Building Training – Taipei
We began delivering corporate training in Taipei over five years ago. Since then we have delivered corporate skills training in Taipei covering most of the major soft skills and business essential topics.
Over recent years the powerhouse that Taipei is has been growing exponentially. Increased collaboration with Taiwan and the western marketplace has driven the need for cross cultural communication, team building, leadership skills and many more.
We were contacted by our extremely valued client company in Taipei to deliver training workshops to their multiple offices focusing on communication and team building.
Taipei Corporate Training Needs Analysis (TNA)
Upon initial consultation with the company in Taipei regarding their corporate training needs we grew to understand in detail their complete requirements. The company had expanded rapidly and communication across teams was now an issue. In addition they had many new starters who were finding it difficult to integrate into their new-found team structures. Due to this team motivation levels were dropping as well as work efficacy. They required training encompassing the following:
Team Building skills and tactics training for both one off and ongoing internal use
Leadership & Management training courses to improve overall team spirit and motivation
Intensive training workshops to improve interdepartmental communication
Taipei Corporate Training Program
In planning for our client and their corporate training course in Taipei we liaised with HR to establish initial assessment and surveying across the intended attendees to establish their feedback and requirements on their current training needs. Many confirmed the breakdown in communication issues and that they also felt the need to create stronger bond and work efficacy across departments and teams.
It became clear that we should construct a course that enlightened team members and their managers to better understand how to interact, engage, feedback, instruct and delegate among their teams to create increased levels of cohesion. Initial Training Skills:
Developing Empathy & Effective Listening
Enhanced Encoding & Decoding Techniques
Utilizing Body Language
To solidify learning we planned to integrate extensive practice, analysis and role playing sessions.
Utilizing challenges and co-operation we would also strengthen teams to become powerful units.
Taipei Corporate Training Results
We thankfully received exemplary results and feedback from our extremely valued client and the HR managers that we worked closely with. As mentioned we have already also been allocated multiple departments to carry out more training in Taipei, Taiwan.
Over the coming months the teams and departments we worked with will be implementing their learning. We will continue to follow up with them periodically to ensure it's effectiveness.
For more information on Taipei corporate training, contact us and speak to one of our training specialists.