Online & Offline English Classes
Taiwan, Kaohsiung, Taipei, Taichung, Tainan, Hsinchu
Ultimahub provides a wide range of customized online and offline English classes in Taiwan. Our expert trainers and training solutions cater to companies, students, business professionals, and adults throughout Kaohsiung, Taipei, Taichung, Tainan, Hsinchu.
Our English classes in Taiwan can be carried out one-to-one or in groups. We teach all levels, including advanced English courses, in addition to ESL, IELTS, and TEFL/TESOL certification programs.
Our expert Business English teachers have helped thousands of non-native English speakers to improve their communication abilities and global cultural understanding. The skills you will learn will be customized to your needs and can be immediately implementable in your work and daily life.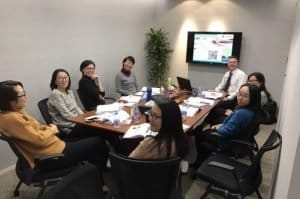 Professional English Teachers in Taiwan - Internationally Qualified Experts
Ultimahub's native English teachers all have international experience working and teaching abroad. Our English teachers are based in Kaohsiung, Taipei, and all major cities across Taiwan. Many of our expert teachers also speak and write fluent Chinese.
Only the most experienced and talented teachers are selected to join our team, and you can expect the highest level of learning and interaction from all of our courses.
Teachers are selected based on top-ranked qualifications. All teachers and trainers have excelled in a rigorous application, interview, and reference checking process.
Innovative English Classes in Taiwan – Online & Offline Learning
We provide customized English courses that are suitable for all English levels. Courses can be developed around specific types of content and regarding a variety of topics or subjects.
Ultimahub can help all levels of students study and achieve outstanding results for upcoming exams including: ESL, IELTS, and TEFL/TESOL certification.
Our online and offline English class options include ideal learning methods for all aspects of English. We also create structured lesson plans using day-to-day materials, including newspapers, magazines, Internet content, videos, and audio media.
English Training Classes & Courses:
Individual & Group Classes
Online & Offline
Oral, Listening, Reading & Writing
Improving English Interview Skills
Preparation for IELTS TOEFL Exams
English classes in all of Taiwan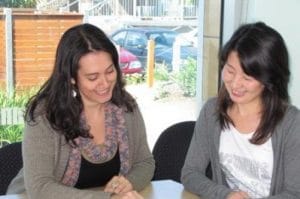 At Ultimahub, we thrive on seeing students excel. Our customized English classes and training courses will be specifically targeted to develop the areas that will benefit you and your employees the most. 
If you are unsure which areas require the most attention, we also offer targeted assessments. Upon course completion and passing a final assessment, students can also receive a certificate of completion.
Our teachers and consultants will work with you to design a customized lesson plan and learning journey to reach (and exceed) your objectives.

If you are interested in our English training courses, we offer a free, no obligation initial consultation. Reach out to us today and speak to one of our experts.