Business English Classes in Taiwan – Online & Offline
Taiwan: Taipei, Kaohsiung, Taichung, Tainan, Hsinchu
Ultimahub provides a variety of online and offline business English classes and training courses in Taiwan, customized to your specific company requirements.
Our workshops and classes are offered across all major cities in Taiwan including Taipei, Kaohsiung, Taichung, Taoyuan, Tainan, and Hsinchu.
In addition to teaching your employees essential business English grammar, vocabulary, and phrases, we focus on active listening and give them the tools they need to interact better with their clients and colleagues. We place a special focus on tone, tonality, word emphasis, and the various cultural contexts in which these are used. We explore the nuances of certain English phrases and metaphors and how these can be used to build rapport.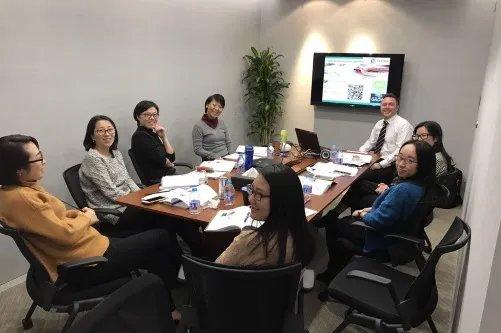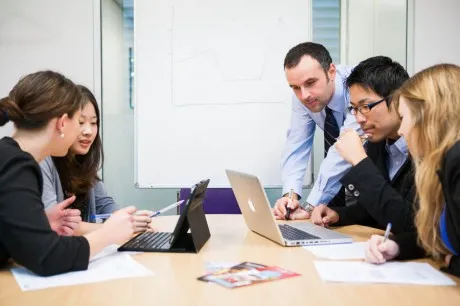 Depending on your requirements, our business English training classes and courses in Taiwan can be customized to focus on specific foundational business skills or more advanced topics.
We provide an initial free consultation to understand your needs and customize the optimum training solution to meet your objectives and goals.
We also offer periodic English-level assessments to arrange efficient student class groupings, track progress, and provide management with progress reports. Our expert teachers will gauge your employees' skill levels with respect to both their English ability and specific skill sets to ensure their targeted continual development.
Bespoke workshops and training solutions suitable for all company employees
Courses covering all levels of English
Courses taught at your company location and online
Courses designed to benefit and improve individual and team English communication
Benefits of Business English Classes in Taiwan
Become confident in using business English in a variety of professional situations
Opportunity to practice speaking and pronunciation, improve reading and writing skills, and grammar
Improve overall conversational fluency using new and business/role specific vocabulary
Customized English Classes
All of our training classes and workshops are fully customized to meet your specific company needs. Our focus on language skills and grammar is designed to help build your employees' confidence when speaking English and provide them with a chance to practice and gain confidence when speaking in professional settings.
Dynamic Business English Classes
Our courses offer attendees a unique blend of practical skills and opportunities to roleplay and practice what they have learned. Individuals and groups can practice roleplaying meetings, negotiations, and presentations and tell dynamic stories. Regarding email and report writing, we also have an eclectic mix of scenarios for attendees to become familiar with, learn, and practice.
Personal Support
An additional function of our training programs is to provide ongoing encouragement, feedback, advice, and support to help participants become engaged throughout the learning process. In addition to individual feedback, managers and HR departments will also receive results on the progress and performance of their employees.
Click on the boxes below for more information on the specific course category examples:
Our Business English classes and courses in Taiwan can target areas such as finance, customer service, sales, hospitality, and other essential workplace skills to ensure that your staff is delivering a world class customer service and sales experience to your clients.
All of our courses are carried out by industry experts in their relevant fields. Each trainer holds multiple qualifications and delivers a huge range of essential words, phrases, spoken practice, and ideas for immediately applicable integration in the workplace. We use customized material to ensure maximum benefit and to ensure maximum flexibility in all areas on which you would like us to focus.
Ultimahub's English teachers and training specialists have extensive teaching experience throughout the world. We build vocabulary, understanding, and overall confidence in all attendees looking to utilize English in their day to day communication. All of our Business English classes can be carried out online or face to face to ensure maximum growth and results.
Full reporting and testing of all students is also included in the packages to ensure we achieve your sought after results. 
Frequently Asked Questions:
Is there a minimum or maximum level of English to attend the courses?
Our Business English teaching/training courses are fully customizable. We cater to all levels and tailor content to the current English levels and abilities of your staff in accordance with your complete requirements.
Where are the training locations? Can your courses be taught online?
We deliver English classes and training courses throughout Taiwan and also online. Business English classes in Taipei, Kaohsiung, Taichung, Taoyuan, Tainan, and Hsinchu.
Do we need to provide any training material?
No, Ultimahub will provide all training material. These include handouts, ppt, media, articles, worksheets, and anything else used to carry out the training sessions.
Do you arrange testing before and after the sessions?
We can provide initial testing as well as periodic assessment and reporting depending on your requirements. Our training specialists will be happy to provide you with more information regarding assessments when you contact us.